Garage Door Repair Anaheim CA – How to Measure For A New Garage Door?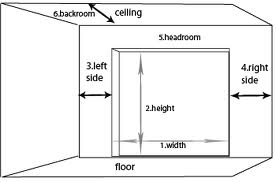 When having a new garage door installed on your property, it is vital that you accurately measure the space. This way, you can avoid experiencing any problems with an improperly-sized door. By spending a few extra minutes measuring ahead of time, your new garage door will fit the space you have available. garage door repair Anaheim CA will explain how to do it.
First, measure the width of your opening from the right to left sides. See if there are any irregularities or other problems that will affect the width of the space. Then measure the height from the top of the opening to the floor. Again, watch for any irregularities, such as a floor that is not level.
Next, you need to see how much room there is on either side of the opening. You need to have enough room for the vertical track to be properly installed. In general, you will want to allow at least 4 inches of room on either side. If your garage has two openings, there needs to be at least 10 inches of room between the two doors for the center post.
The next step is to measure the amount of headroom above the door. Measure from the top of the opening to the lowest point of your ceiling. Different garage doors require different amounts of headroom, so be sure to consult your measurements when you are looking at garage door Anaheim.
Finally, you need to measure how much backroom there is from the opening to the rear of the garage. The amount that you will need is generally 18 inches more than the height of the door for a manual door. An automatic door will require 50 inches of additional backroom.
By properly measuring your garage, you can make sure that you choose a garage door  that fits into the space you have available.
For any more info please contact us garage door repair Anaheim CA.